Migrating to VAS ACARS NXT [Action Required]
Hi pilots,
At the start of this year, we announced a new version of VAS ACARS, VAS ACARS NXT. After thorough testing, we are retiring VAS ACARS version 1 and are moving all pilots to VAS ACARS NXT. As of now, we recommend recording your flights using VAS ACARS NXT and uninstalling the legacy version. Detailed instructions can be found below.
VAS ACARS NXT is a complete rework of our recording system and is also more stable than legacy VAS ACARS, and as such, we will be shutting down the legacy VAS ACARS v1 on September 1st, 2020. All of your flights can be done using VAS ACARS v1 until September 1st, 2020, but after that date it will not be possible to record any flights using VAS ACARS.
While we announced that VAS ACARS NXT would have chat functionality in our January post, we have decided to instead only use Discord and not integrate chat functionality in VAS ACARS NXT. VAS ACARS NXT will contain the link to the Discord server prominently, and we will make sure there are enough channels available in Discord for all kinds of matters.
Migrating to VAS ACARS NXT
Migrating to VAS ACARS NXT is an easy process:
Check that all of your flights flown using VAS ACARS have been uploaded in full, as uninstalling VAS ACARS will remove all of your old flight data from your computer (although they will of course still be available on our website if you have submitted your report)
Uninstall VAS ACARS using the Windows "Add or remove programs" feature.
Download VAS ACARS NXT and install it.
You can now open VAS ACARS NXT and start recording your flight.
If you have any problems with VAS ACARS NXT, please do not hesitate to create a support ticket.
A more detailed shutdown schedule of legacy services may be found below the image.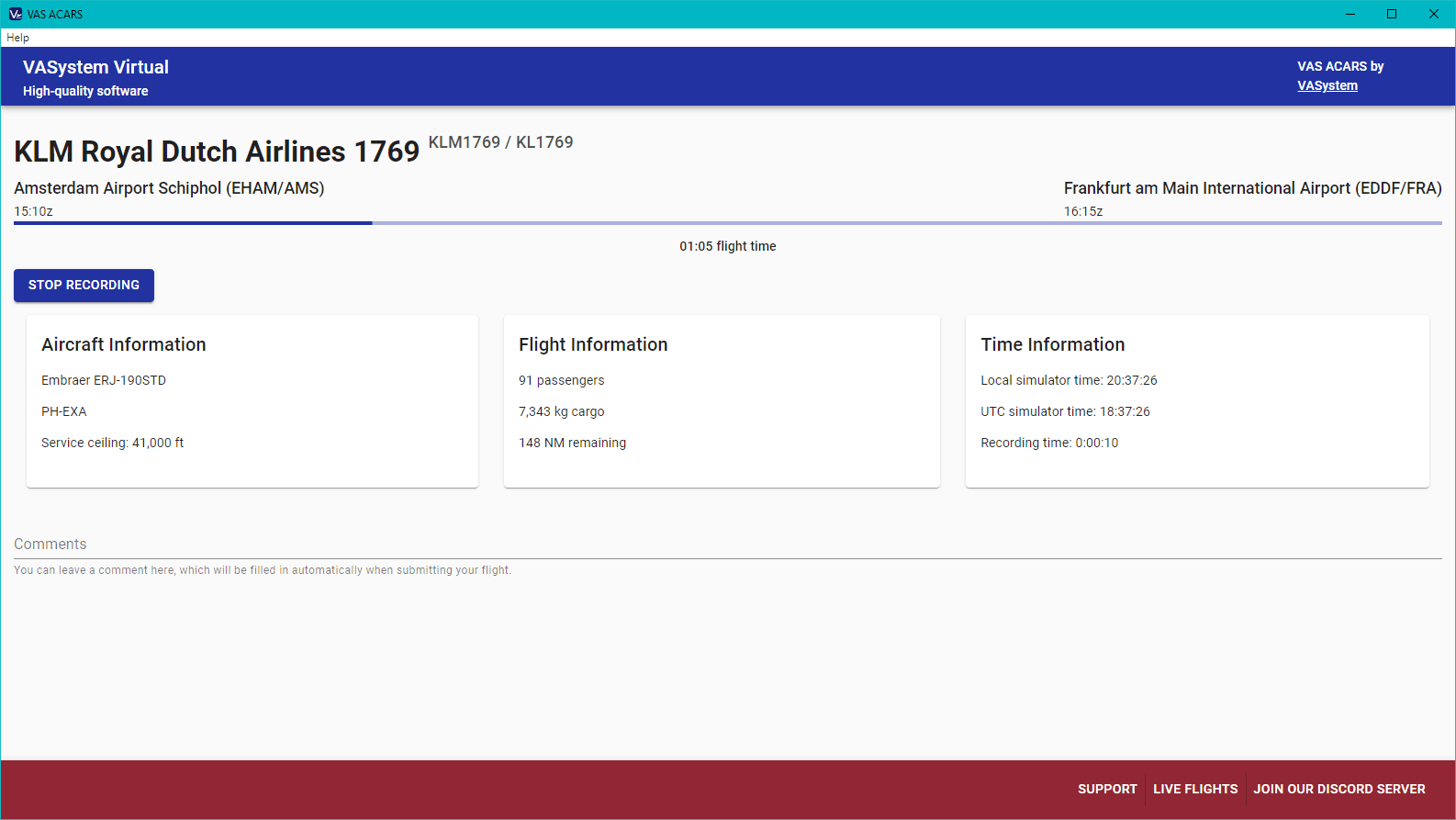 Shut down schedule
We will be gradually shutting down more services of VAS ACARS v1 and increasing our communication of the shut down, according to the schedule below:
| Date | Event |
| --- | --- |
| July 25th, 2020 | VAS ACARS NXT 3.0.0 is released |
| July 26th, 2020 | VAS ACARS v1.5.0 is released, adding a message about upgrade to VAS ACARS NXT |
| August 2nd, 2020 | Chat will be shut down |
| September 1st, 2020 | VAS ACARS v1 services will be shut down |